Providing solutions that ensure compliance with environmental regulation, helping your business to succeed.
learn more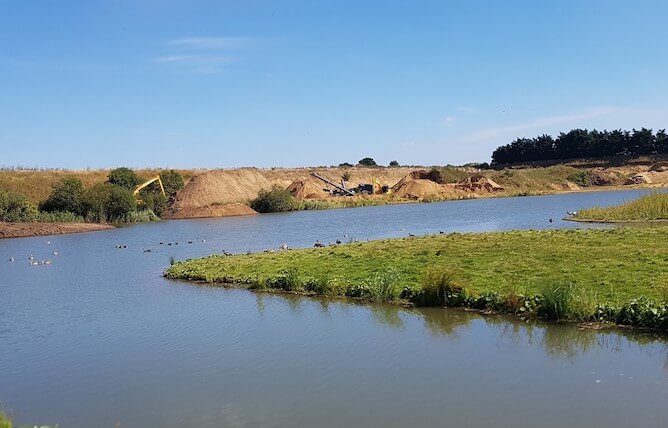 Communication is the cornerstone of our work.
Our dedicated team of knowledgeable consultants offer a bespoke service to meet your business requirements. With a personable approach, we bridge the gap between operator and regulator by providing compliance solutions in environmental regulation.
more
The Knowledge Centre
Hazardous waste assesments: The good, the bad and the ugly
Waste regulators are enforcing the requirement for hazardous waste assessments to be carried out. Do you understand what that assessment should contain? Not all assessments are made equal.
Watch our latest FREE video to understand what this means for you as a permit holder.
Start your journey to compliance
BOOK YOUR FREE CONSULTATION TODAY
Simply complete your details and we'll be in touch to help in whatever way we can.
Your Waste - Is It Hazardous? Seminar Success
Westbury Environmental recently hosted their first successful seminar event Your Waste - Is It Hazardous?
Thanks to the great line-up of speakers and delegates who joined us to discuss how to correctly classify your waste and the consequences of getting it wrong.
Our event calendar for 2020 will be available soon, register your interest for future seminars by completing the enquiry form above.
New taxes introduced within major UK refuse derived fuel markets
The UK refuse derived fuel (RDF) market faces a period of uncertainty going into 2020 which will impact many businesses across the UK. Sweden and the Netherlands are to introduce an "Energy from Waste" tax with the aim of cutting CO2 emissions associated with the waste management industry. This is likely to increase costs for UK RDF exporters as Sweden and the Netherlands are two of the major end markets for UK RDF.

The tax of 75Kr (£6) per tonne on "waste that is burnt" will become effective in Sweden from 1st April 2020. However, the RDF tax of €31 per tonne in the Netherlands has come into force on 1st January 2020. These taxes coupled with Brexit ensure that the UK RDF industry faces an uncertain future.

There has been criticism of the new tax across the RDF industry with concerns that the move will actually increase overall emissions from waste management as a result of more waste being sent to landfill.
Brexit and environmental regulations
On January 31st 2020 at 23:00 GMT, the United Kingdom (UK) officially ended 47 years of membership with the European Union (EU). We have now entered the '"Implementation Phase'" which shall run until the 31st December 2020. This Phase will allow the UK to continue to operate under all EU Laws, while the UK Government finalise all UK Retained Law. Action and discussion of the proposed retained laws, namely the Environmental Bill and Resources and Waste Strategies, have so far been unsuccessful.
Prior to 2019, 11 new schemes and strategies were proposed however, 7 had not yet been consulted on before the end of 2019, including the Waste Framework Directive and Landfill Directives. Pressure is now on the government to implement a comprehensive suite of legislation to follow, within 11 short months.
Added to this are further items for consideration, such as the pertinent issue of climate change. Westbury Environmental will be following any proposed changes in the legislation keenly and how they may impact existing operators.
Are COVID-19 controls impacting your waste storage?
The Environment Agency have issued a position statement to say that they will allow the temporary storage of permitted waste on your site if your storage limits will be exceeded as a result of COVID-19 movement restrictions.
If you think you will need to make use of this position statement you must let the Environment Agency know before your limits are exceeded.
You must stop all waste acceptance if the additional waste storage will pose a risk to human health or the environment. Further conditions of this regulatory position can be found hereWe understand that the Environment Agency are due to publish similar regulatory positions on the following issues to www.gov.uk in the coming days:
Environmental monitoring requirements,
Duty of care requirements,
Storing material on non-permitted sites,
Technical competence management (TCM) attendance.
Majority of household WEEE is now to be classified as hazardous
Following the revision of the Persistent Organic Pollutant (POPs) Regulations in 2019, the Environment Agency have updated their guidance for the assessment of household waste electrical and electronic equipment (WEEE).This new guidance explains that most household WEEE is now considered to be hazardous due to the presence of components that contain hazardous substances or POPs, see https://www.gov.uk/how-to-classify-different-types-of-waste/electronic-and-electrical-equipment. These components include:
printed circuit boards
plastic casings, cables and other components
insulation form
cooling agents
flame retardants
activated glass and screen phosphors
cathode ray tubes
capacitors
Ni-Cd batteries
If the concentrations of hazardous substances, or POPs, in WEEE are over a certain amount the item will be classified as hazardous or POPs waste. If your WEEE is POPs waste you cannot reuse or recycle it.
This updated guidance is a major concern for the WEEE industry as items such as plastic casings, printers, printed circuit boards and cables will now need a hazardous waste consignment note. This will involve further associated costs for collection and treatment. Sites that are currently authorised to accept these waste types may need to vary their Environmental Permit to allow for the acceptance of the relevant hazardous List of Waste codes.
If you are concerned that this change might impact you but you are not sure, please feel free to get in touch for a no-obligation discussion.
Further guidance on the classification of WEEE components and wastes from their treatment can be found at: www.gov.uk/guidance/classify-some-waste-electrical-devices-components-and-wastes-from-their-treatment.

FREE Webinar: Enforcement of Waste Classification on Trommel Fines
Join us for the return of our FREE webinar focussing on the Enforcement of Waste Classification on Trommel Fines on Wednesday 28th October from 9:30-10:30am.
Did you know the Environment Agency is clamping down hard on producers of trommel fines and sites accepting this waste?
All producers of trommel fines will soon receive a '"Sampling and analysis of trommel fines'"letter from the EA, who will now expect to see evidence of the classification of your trommel fines as part of site visits and random audits.
Trommel fine producers are required to classify their fines to assign the right waste code: 19 12 11* or 19 12 12. Correct classification is a requirement under Waste Duty of Care.
Are you classifying and disposing of trommel fines correctly?
Incorrect classification and mismanagement of trommel fines can lead to hefty financial fines and even prosecution.

Join our FREE one-hour webinar to find out:
- how this letter may impact your business.
- how to assess trommel fines for waste classification and landfill acceptance requirements.
- what the EA will expect from you
- the consequences of getting it wrong.

To register your place email the name(s) and email addresses of those who wish to attend to: admin@westburyenv.co.uk
FREE WEBINAR ~ Environment Agency Permit Review: What You Need To Do
Did you know the Environment Agency are now reviewing Environmental Permits held by waste operators of large composting sites and hazardous waste treatment and storage facilities? The review of Environmental Permits for non-hazardous waste sites will then follow. The review will incorporate the requirements of new guidance into existing permits.

Join Tracey Westbury for a FREE 1-hour webinar Environment Agency Permit Review: What You Need To Do on Thursday 17th June at 9.30am to find out:
What is an Environmental Permit Review.
How and why the Environment Agency are doing this.
What this means for you as a permit holder.
To register your place, simply email the names and email addresses of those who wish to attend to admin@westburyenv.co.uk.
TCM attendance frustrations?
The Environment Agency are actively consulting on TCM attendance requirements.
Have your say or provide feedback here
Don't have time to reply? Let us know and we will include your views within our response.
Consultation ends 09 August 2021.
Westbury Environmental helped us set up a Materials Management Plan to bring in clean soils from other areas to our development site. They provided concise views on whether soils from sites would be acceptable and wrote the Verification Report to show that the development was completed in accordance with the CL:AIRE code of practice. This provided us with confidence that we were fully compliant.
DNA (Northwest) Ltd
Westbury Environmental have secured environmental permits for five of our sites across Norfolk and have advised us for over 6 years. We've entrusted them to ensure our compliance with environmental regulation which allows us to concentrate solely on our recycling operations. Their team are helpful and continue to provide solutions to any issues raised by the Environment Agency, which seem to be increasing year on year. It's reassuring to know that their help is only on the other end of the phone.
Rory J Holbrook Ltd
Westbury Environmental helped us get our construction and demolition recycling site up and running. They completed the permit application and wrote our EMS and WRAP Quality Manual. They dealt professionally and efficiently with any queries we received from the EA.
Windmill Services Ltd